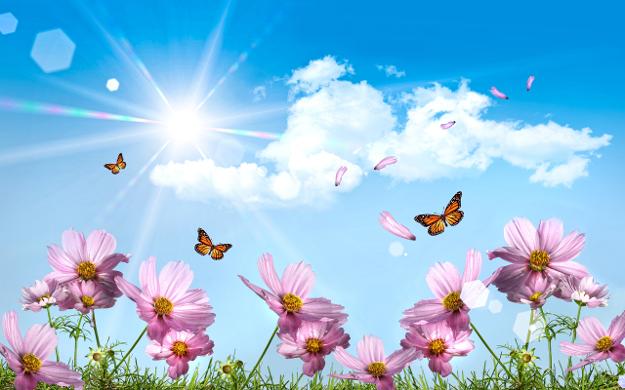 A SUMMER DAY.
Perfect day of summer time!
I see the purple shadows climb
The peaceful hills, as down the west
The sun goes journeying to his rest;
While all the valley at my feet
Is wrapped in calm as deep and sweet
As that which in my fancy lies
About the peaks of paradise;
And softly to my heart I say,
Is heaven more fair than earth today?
The wind is sleeping on the hill,
The robin carols softly still,
But far away, as heard in dreams,
His mid-day song of gladness seems.
Beside his nest he rocks and swings;
While, thinking of the folded wings
Beneath her breast, his brown wife broods
In the green maple's solitudes,
So near, and yet so far away
As things of which we dream today.
The river's voice is low and sweet
Where lily leaves, a fairy fleet,
Are rising, falling, by the shores--
Life-boats adrift with idle oars.
I see the water-fairies dance
Among the rushes on the banks,
Where, crowned with plume, and armed with lance,
The tall reeds stand in stately ranks,
And fancy that some Pan today
Is fashioning pipes whereon to play.
All day the elfin sprites have swung
The lily-bells the grass among,
And filled the air with melody
Like that which comes in dreams to me,—
Sweet airs from Elfi and, vague as sweet,
That only those who dream can hear
When rest is round us, to complete
The happy day that crowns the year,—
The happy day when life to me
Is dream, and dream reality.
The sky has seemed, the whole day through,
Like a great violet overturned,
With sunshine filtering through its blue;
While idle, dreaming, unconcerned,
I lay among the grass and heard
The cricket chirp, and talk of bird,
And saw the clouds sail softly by
Between me and the great, clear sky,
Like argosies our heart sent out
To find the treasures dreamed about.
Strange things has Nature to me told!
The secret of the sunshine's gold;
The mystery of the growing corn;
How roses break apart at morn;
What the wind whispers to the pine—
Ah, all these mysteries are mine.
But I may never tell to you
What I have heard. Your ear must be
Laid close against her heart so true
To understand each mystery.
Eben B. Rexford.