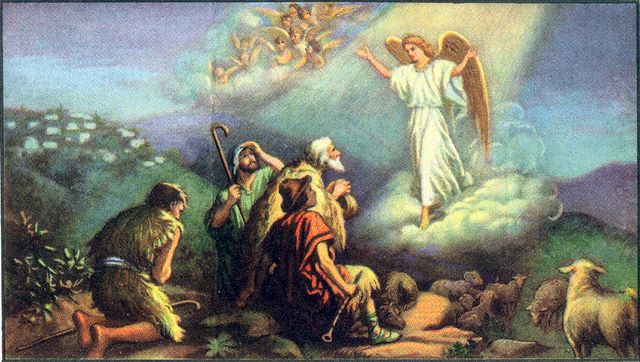 The Birth Of The Saviour
O'ER eastern hilltops at the close of day,
The queen of night hath shed her silver ray;
And gentle stars do lend their feebler light,
As o'er their flocks the shepherds watch by night.
A swift-winged angel from the realms of light,
To earth descends arrayed in glory bright.
Sweet music strikes the shepherd's listening ear,
And suddenly the heavenly hosts appear.
Melodious voices o'er the valleys ring;
Glory to God on high! the angels sing:
In Bethlehem, as prophets have foretold,
Is born a Saviour, which is Christ the Lord.
With joy they leave their flocks and haste away,
A star their guide to where the infant lay;
Within a manger where the oxen fed,
In humble garb the heavenly babe was laid.
Filled with joy at what they saw and heard,
Praising the Lord these holy men returned;
'The child in wisdom and in stature grew,'
And to his parents rendered honor due.
This heavenly babe, that we might live, did die,
And for our sins now pleads his blood on high;
And in his name before the Father's throne,
The little children he invites to come.
S. M. SWAN.