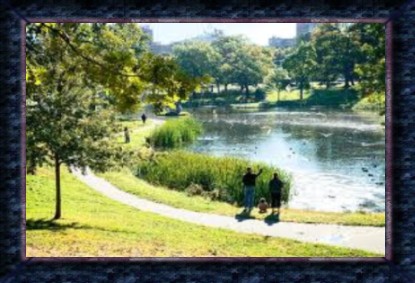 TWO LITTLE PATHS.
TWO little paths met by a sparrow's nest,
Down in the meadow green and sunny,
And, stopping there 'neath a rose-tree rare,
Where a yellow bee was nipping honey,
Made plans for the merry summer weather,
With their dewy faces close together.
"Oh, I," said one, "I shall stay in the field,
And hither and thither through the clover
Will trip away through the long bright day,
But never stray to the woodland's cover.
Here brooks and sunbeams laugh in the grasses,
And I find bluebells for pretty lasses."
"I," said the other, "my fortune will seek,
And find the fairies that somewhere cluster.
Daisies, are bright, but common as light
And sunbeams, with all their merry lustre,
Dull enough when one sees them forever,
What flowers, I wonder, live by the river?
And where in the woods do red caps hide?
Here there is never one, I am certain,
For I've chased the brook into every nook,
And pushed back the tall fern's green lace curtain."
Then they said good-by, each one to follow
Its own sweet way over hill and hollow.
But the one that went its fortune to seek,
Never found it, but still kept peeping
Mid clustering bells by woodland wells,
And lost itself through a great marsh creeping;
Was hindered by briers and choked by rushes,
And always turning aside for bushes.
And the one who took for itself no thought,
But sought for weary feet cool sweet places,
Mid dewdrops bright, in midsummer night,
Met troops of fairies with all their graces;
And often felt through its velvet mazes
The touch of light feet as soft as daisies!
Wide Awake, for October.