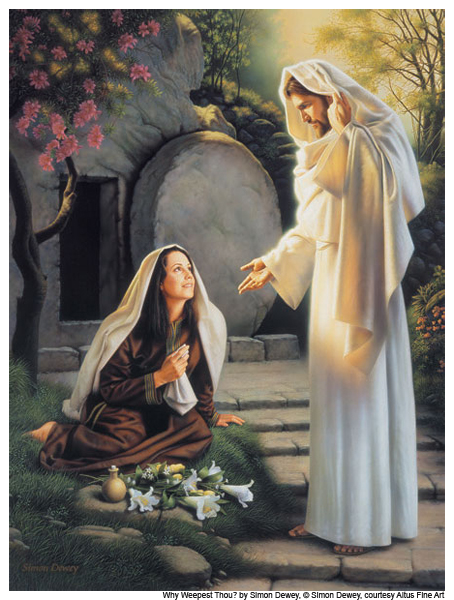 The Visit To The Sepulchre.
'Tis dawn, and o'er the eastern hills
The zephyr breezes softly play,
And gentle warblers join in song
To welcome the approaching day,
When Mary, lone and weeping, sought
The grave of him she once adored,
And spice and precious ointment brought,
To embalm the body of her Lord.
Her tender, sympathizing heart
Had been borne down with grief and pain,
As she beheld that lovely form
Wickedly crucified and slain.
And as she seeks his resting place,
The last kind office to perform,
Her wounded spirit bleeds afresh,
To find the dear remains are gone.
But hark! a sweet, familiar voice
Falls gently on her listening ear,
And bids her drooping heart rejoice,
The Saviour that she seeks is here.
Woman, why weepest thou? he says,
She turns, and all her grief is flown;
He's there; he's risen from the dead,
And life and peace in every tone.
Hearken! poor wanderer o'er life's sea,
Tossed with the tempest and oppressed;
Hearken! good news is borne to thee,
He lives to give the weary rest.
He lives to give eternal life
To those who suffer with him here;
He lives, and thou shall with him live,
0, let this thought thy spirit cheer.
SARAH SWAN.
Mantua, Ohio.