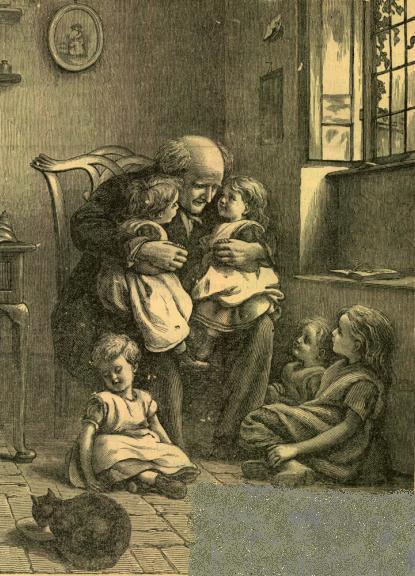 GRANDFATHER'S CHAIR.
I LOVE, when the evenings are gloomy and chill,
And storm-winds are raging o'er valley and hill,
To see by the fireside the little ones there,
All happy and smiling round grandfather's chair.
Such stories he tells them, such tales of delight,
Such wonders to dream of by day and by night,
It's little they're thinking of sorrow and care,
Their bright faces beaming round grandfather's chair.
And words, too, of wisdom fall oft from his tongue;
Dear lessons to cherish and treasure while young;
Bright things to remember when, laden with care,
They gather no more around grandfather's chair.
Ah! Little ones, love him, be kind while you may,
For swiftly the moments are speeding away;
Not long the kind looks and the love you may share,
That beam on you now from a grandfather's chair.