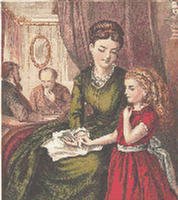 The Christian Mother And Her Child
What can I do for Christ, mamma,
Who does so much for me?
Give him your youthful heart, my child,
And from all evil flee.
I think he has my heart, mamma,
And I detest all sin.
Then end each day with prayer, my child;
With prayer each day begin.
I pray both morn and eve, mamma,
And love God's word to read.
Act too, that all may see, my child,
That you are Christ's indeed.
All this I strive to do, mamma;
Can I do nothing more?
Yes, tell that Christ has died for us,
God's favor to restore.
To whom can one so young, mamma,
The Saviour's mercy teach?
To all you love, and all you know,
And all your voice can reach.
But there are dying souls, mamma,
In many a distant land.
Well, send them men to preach the word,
That they may understand.
How can I send them men, mamma,
Who am so weak and poor?
Help those who do, and that with prayer,
A blessing to secure.
If prayer would turn my pence to pounds,
I fain your plan would try.
Elijah and the widow's oil
My answer will supply.
0 yes! I see; I have not much,
But what I have I'll give;
And God may make some dying soul
Through my small pittance live.
Do thus, my child, and you will find,
When sun and stars are dim,
That Christ regards what's done for man
As if 'twere done for him.
"Let the fainting soul be cheerful,
Let the timid now be brave;
Why should they be faint or fearful
Whom the Lord delights to save?
Whom he rescues,
Satan can no more enslave."
S. A. HASTINGS.
Claremont, N. Y.