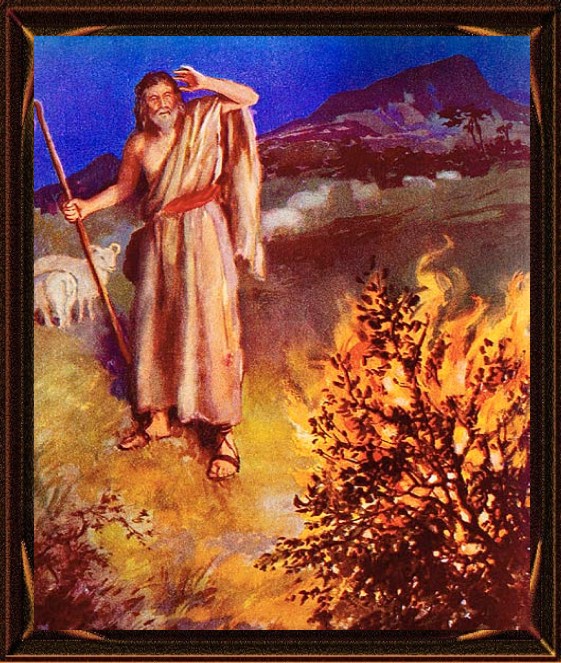 The Burning Bush
BEYOND the desert pastures, closely grazed
By Midian's myriad flocks, even to the foot
Of Horeb's sacred mount, the man of God
Had led his sheep. Here, undisturbed by cares,
Save that his flocks strayed not, he mused alone.
And, while reclining in some friendly shade
Whose ever changing, ever varying form
Serves to remind him of the changes sad
From years long gone, he lives his life again.
The favorite of Egypt's princely court
And captain of her mighty men, once more
He wields the sword of power at the head
Of armed hosts, or with his chariot, fierce
Descending, spreads confusion and dismay
Among his enemies. Again he sees
His brethren groaning 'neath the oppressor's hand;
And then, impatient for the time to lead
Them forth from bondage to the promised land,
He metes swift vengeance on the man who wronged
An Israelite, and for his daring deed,
He flees the wrath of an offended king.
And now, the years of his humility
He lives again. Long had he thought to see
His kindred and his friends once more, and bring
Them out from Egypt's cruel servitude;
But hope deferred has made him sick at heart,
And he has yielded to the stern decree
Of fate, content to lead a shepherd's life,
And in his solitude, commune with God.
His raven locks and flowing beard are whitened with the flight of years,
His softened heart, no longer young, finds sweet relief in bitter tears.
A startling sight disturbs his reverie-
A fierce, consuming fire in a bush
Is burning with a steady flame, and yet
The bush is not consumed. "This is most strange,"
The prophet said; "I will now turn aside
And see this sight, and why the bush burns not."
With cautious steps the holy man draws near,
When, lo! The voice of God calls from the flame.
With trembling, Moses answered, "Here am I."
Again the voice directs him, "Draw not nigh,
But put thy shoes from off thy feet, for where
Thou standest now is holy ground. I am
Thy fathers' God, the God of Abraham,
The God of Isaac, and of Israel."
But Moses feared, and hid his face from God.
Once more the voice speaks to the trembling man:
"The great affliction of my people I have seen,
And I have heard their cry, and I am come
To bring them up out of that land unto
A good land and a large, a land with milk
And honey flowing. Come, now, I will send
Thee unto them, that thou mayst bring them forth."
But Moses answered: "Who am I, that thou
Shouldst send by me? I am not eloquent;
I speak with broken words and faltering tongue."
Then said the Lord to him: "Who made man's mouth?
Who made the dumb? Is it not I, the Lord?"
But Moses said, "I pray thee, 0 my Lord,
That thou wilt send by him whom thou wilt send."
Then was God angry with the man, because
He had no faith, when he had seen the signs
And wonders great which God had wrought for him.
"Go," said the Lord. "Behold, thy brother I
Will give to be a mouth for thee; and thou
Shalt be as God to him." And Moses went.
EUGENE LELAND.