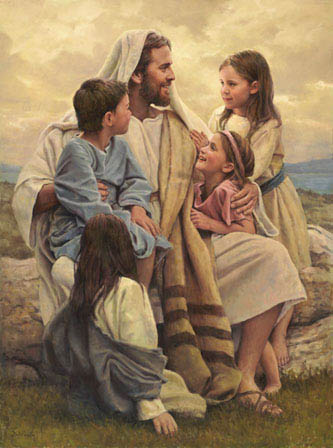 THE MASTER AND THE BAIRNS.
THE Maister sat in a wee cot hoose,
To the Jordan's waters near;
An' the fisher fowk crushed an' crooded roon
The Maister's words to hear.
An' even the bairns frae the near-haun' streets
War mixin' in wi' the thrang;
Laddies and lassies wi' wee bare feet
Stanin' the crood amang.
An' ane o' the twal' at the Maister's side
Rase up and cried alood—
"Come, come, bairns, this is nae place for you;
Rin awa' hame oot the crood! "
Bet the Moister said, as they turned awa',
"Let the wee bairns come to me!"
An' he gaithered them roon' him whar he sat,
An' lifted them up on his knee.
Ay', he gaithered them roon' him whar he sat,
And straikit their bonnie hair;
An' he said to the won'erin' fisher fowk
That croodit aroon' him there,—
"Sent na the weans awa' frae me,
But raither the lesson learn—
That nane'll win in at heaven's yett
That isna as pure as a bairn r"
An he that wis o' oor kith an' kin,
Yet a great Prince ower us a',
Gaithered the wee ones in his airms
An' blessed them ane an' a'.
O thou who watchest the ways o' men,
Keep our feet in the heavenly airt,
An' bring us at last to thy hame abune,
As leal the bairns in heart.
Selected.