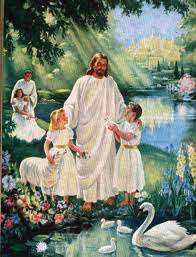 Desire For Home.
JESUS, I come to thee,
Thou art my guide;
Keep me from evil free,
Close by thy side.
I would not longer roam,
In sinful ways;
I long for that dear home,
In paradise.
This world to me looks drear,
I still should pine,
Though for my portion here,
All things were mine.
There is a better land,
Where all is pure;
Those joys at God's right hand,
I would secure.
My friends and kindred are
The blood-washed throng;
I would their victories share,
And join their song.
Lord, for this end prepare
My longing soul;
A crown of life to wear,
In that blest goal.
A. M. L.
New Haven, N. Y.,
June 1st, 1859.