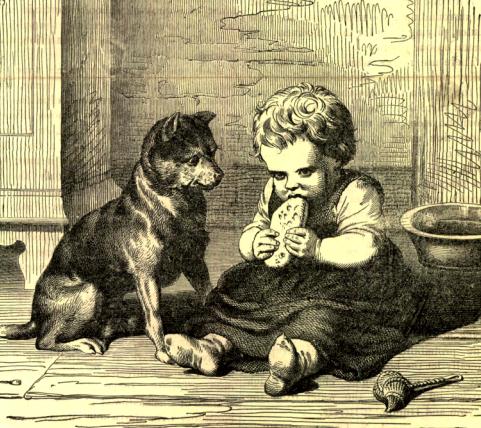 The Selfish Baby
Please, baby," says young Rover,
"One little bite for me;
The cake is such a big one,
And full as it can be
Of plums that would taste splendid
To such a dog, you see."
"No, no," says selfish baby,
"This cake is very nice,
I cannot let you have a bit
Of it at any price.
My mamma knows how much I need,
She gave me all the slice."
"Then eat it," says wise Rover,
"I know 'twill make you sick,
And I shall be revenged on you
In that way, very quick;
For too much cake will punish you
As surely as a stick.
"And baby, you will learn at last,
What all learn soon or late,
That only sad unhappiness
On selfishness can wait;
For kindly angels never come
To children through that gate."
Myrtle