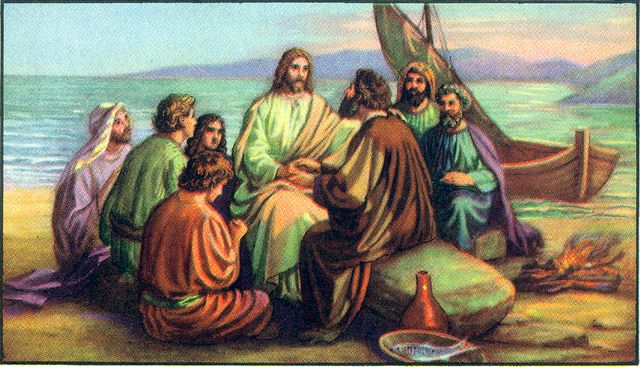 THE FIRE BY THE SEA.
THERE were seven fishers with nets in their hands,
And they walked and talked by the seaside sands;
Yet sweet as the sweet dew-fall
The words they spake, though they spake so low,
Across the long, dim centuries, flow,
And we know them, one and all,—
Aye! Know them and love them all.
Seven sad men in the days of old,
And one was gentle, and one was bold,
And they walked with downward eyes;
The bold was Peter, the gentle was John;
And they all were sad, for the Lord was gone,
And they knew not if he would rise,—
Knew not if the dead would rise.
The livelong night till the moon went out,
In the drowning waters they beat about,—
Beat slow through the fog their way, —
And the sails drooped down with wringing wet,
And no man drew but an empty net;
And now 'twas the break of the day,—
The great, glad break of the day.
"Cast in your nets on the other side "
('T was Jesus speaking across the tide;)
And they cast and were dragging hard;
But that disciple whom Jesus loved
Cried straightway out, for his heart was moved!
"It is our risen Lord!,—
Our Master and our Lord! "
Then Simon, girding his fisher's coat,
Went over the nets and out of the boat—
Aye I first of them all was he;
Repenting sore the denial past,
He feared no longer his heart to cast
Like an anchor into the sea,—
Down deep in the hungry sea.
And the others, through the mists so dim,
In a little ship came after him,
Dragging their nets through the tide;
And when they had gotten close to the land
They saw a fire of coals on the sand,
And with arms of love so wide,
Jesus, the crucified!
'T is long, and long, and long ago
Since the rosy light began to flow
O'er the hills of Galilee;
And with eager eyes and lifted hands
The seven fishers saw on the sands
The fire of coals by the sea,—
On the wet, wild sands by the sea.
'T is long ago, yet faith in our souls
Is kindled just by that fire of coals
That streamed o'er the mists of the sea;
Where Peter, girding his fisher's coat,
Went over the nets and out of the boat,
To answer, "Lov'st thou me!"
Thrice over, "Lov'st thou me!"
—Alice Cary.