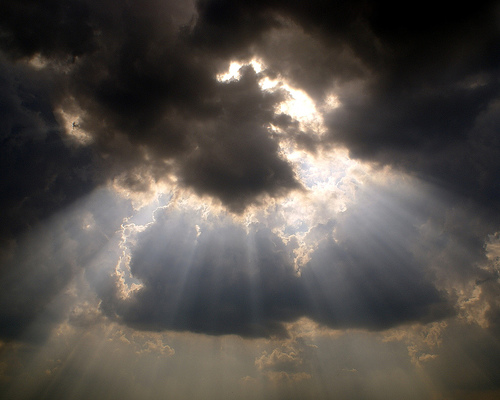 THE FOUR SUNBEAMS.
FOUR little sunbeams came earthward one day,
Shining and dancing on their way,
Resolved that their course should be blest.
"Let us try," they all whispered, "some kindness to do,
Not seek our own pleasuring all the day through,
Then meet in the eve at the west."
One sunbeam ran in at a low cottage door,
And played "hide-and-seek " with a child on the floor,
Till baby laughed loud in his glee,
And chased in delight his strange playmate so bright,
The little hands grasping in vain for the light
That ever before them would flee.
One crept to the couch where an invalid lay,
And brought him a dream of the sweet summer day,
Its bird-song, and beauty, and bloom,
Till pain was forgotten, and weary unrest,
And in fancy roamed through the scenes he loved best,
Far away from the dim, darkened room.
One stole to the heart of a flower that was sad,
And loved and caressed her until she was glad,
And lifted her white face again;
For love brings content to the lowliest lot,
And finds something sweet in the dreariest spot,
And lightens all labor and pain.
And one where a little blind girl sat alone
Not sharing the mirth of her playfellows, shone
On hands that were folded and pale,
And kissed the poor eyes that had never known sight,
That never would gaze on the beautiful light
Till angels had lifted the veil.
At last, when the shadows of evening were falling
And the sun, their great father, his children was calling,
Four sunbeams passed into the west.
All said, "We have found, that in seeking the pleasure
Of others, we fill to the full our own measure."
Then softly they sank to their rest