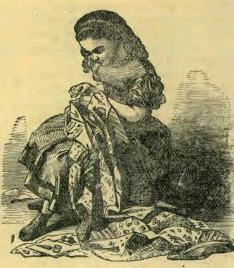 A Young Seamstress
"I AM learning how to sew," said an eager little maid;
"I push the needle in and out, and make the stitches strong;
I'm sewing blocks of patchwork for my dolly's pretty bed,
And mamma says, the way I work it will not take me long.
It 's over and over—do you know
How over-and-over stitches go?
"I've begun a handkerchief; mamma turned in the edge,
And basted it with a pink thread to show me where to sew.
It has Greenaway children on it, stepping staidly by a hedge;
I look at them when I get tired, or the needle pricks, you know.
And that is the way I learn to hem
With hemming stitches—do you know them?
"Next I shall learn to run, and darn, and back-stitch, too,
I guess;
It wouldn't take me long, I know, if 'twasn't for the thread;
But the knots keep coming, and besides—I shall have to confess—
Sometimes I slip my thimble off, and use my thumb instead!
When your thread knots, what do you do?
And does it turn all brownish, too?
"My papa, he's a great big man, as much as six feet high;
He's more than forty, and his hair has gray mixed with the black:
Well, he can't sew! He can't begin to sew as well as I.
If he loses off a button, mamma has to set it back!
You mustn't think me proud, you know,
But I am seven, and I can sew!"
Mary L. Branch.