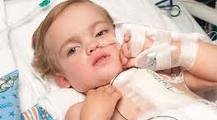 Weep With Those That Weep
TO E. I. A. A. COEB.
YOUR little Rollie's gone from earth,
He rests in dreamless sleep;
His suffering form no longer racked,
Is laid where willows weep.
His soft, sweet voice no longer moans,
"Some good cold water give;"
That voice will swell angelic choirs,
Where crystal fountains live.
His tiny hands no more outstretched,
Are folded o'er his breast;
Yet they will cull the fadeless flowers,
That bloom where cherubs rest.
Those azure eyes whose lids oft drooped,
While he a sufferer lay,
In deathless realms again will open,
And own a brighter ray.
Across his marble brow were smoothed,
The locks of shining hair;
'Twas hard to weep a last adieu,
O'er that pale sleeper fair.
But sunnier curls than those of earth,
Will cluster round his brow,
And higher strains will warble then,
The voice that's silent now.
Oh! stricken mother! stay the tears,
That flow from sorrow's dart;
Confide in Him who never fails,
To soothe the wounded heart.
Soon you will meet where death's cold hand,
No more will rend in twain,
The shining links that serve to form,
Affection's golden chain.
H. Deerfield, Minnesota.
"0 watch, and fight, and pray,
The battle ne'er give o'er;
Renew it boldly every day,
And help divine implore.
"Ne'er think the victory won,
Nor lay thine armor down;
Thy arduous work will not be done,
Till thou obtain the crown."
P. J. STEVENS.
Waukon, Iowa.
TIME IS FLYING.
TIME is flying rapidly and hurrying us onward to the final end. "Yet a little while and he that shall come, will come and will not tarry." What preparation are we making for this great and solemn event! Are we becoming more and more like Jesus, our heavenly example ? or are we conformed
to this world, and the fashion thereof? We cannot serve God and mammon.
YI