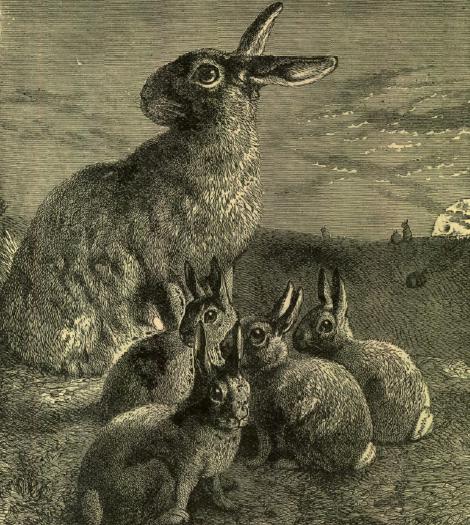 THE LITTLE HARES.
THE gray-leaved hardbacks, stiff and high,
With white and rosy plumes are dressed;
And underneath them, warm and dry,
Some wild field-hares have made their nest;
A mother and her little ones,—
Four brown, soft, tiny, baby Buns.
The long-eared mother comes and goes;
The little hares lie still all day,
And sleep with open eyes, till blows
The sunset wind; then, out to play
They lightly leap without a sound,
And still as shadows frisk around.
They breakfast with the break of light—
One has a grass-blade springing new;
One a red raspberry; one a white,
Sweet clover blossom, wet with dew;
And one,—the daintiest feast of all,—
Pink leaves a brier-rose let fall.
The summer days go hurrying by;
The little hares grow fleet and strong;
Across the pasture grass they fly,
Like leaves in autumn blown along;
It seems as if their feet were wings,
The lovely, flitting, fairy things!
Among the bushes, through the fern,
They wander here, they wander there;
They change their course, and wind,
and turn,
And quite forget the mother hare.
Their hardback-sheltered days are o'er,
The Buns are baby Buns no more.
Marian Douglas.