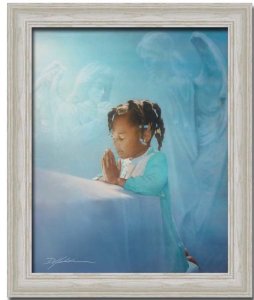 MAY'S GOOD-NIGHT.
AS the sun went down in purple and red,
A sweet little maiden pleasantly said:
"Now good-night, sun,
For your work is done;
You have shone so bright through the summer day
I am sorry to see you go away.
"And good-night, work; with the dark we cease."
Then she folded it neatly without a crease.
"Good needle and thread,
You must go to bed;
All day, you know, it was in, it was out,
Though we knew quite well what we were about.
"And, little brown bird in the sycamore-tree,
You have sung pretty songs all day to me;
Now go to your rest in your nice soft nest;
I shall see you again in the morning light."
And the bird twittered back: "Good-night, good-night."
"And roses, and lilies, the daylight flies;
You must go to sleep." Then they shut their eyes.
"Dear daisies white, It is nearly night."
So each little daisy nodded its head,
And the violets courtesied, and went to bed.
Then fair little May, in the evening gloom,
Went softly away to her own sweet room;
Laid her new doll, Grace, In its proper place;
Put her books and her clothes away with care,
And carefully brushed out her long brown hair;
With her little bare feet in her nightgown white,
Took a farewell peep at the lovely night;
Said her evening prayer,
With a loving care;
Lay down on her pillow and slept all night,
And knew nothing more till the morning light.
Mary Burnett.