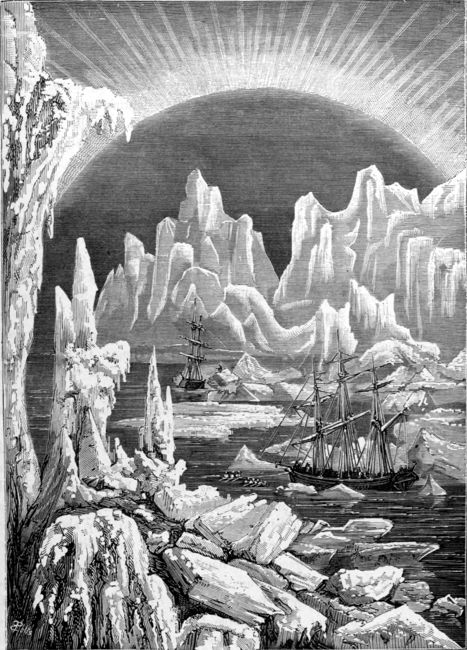 THE NORTHERN SEAS.
UP, up! Let us a voyage take;
Why sit ye here at ease?
Find us a vessel tight and snug,
Bound for the Northern seas.
I long to see the Northern lights,
With their rushing splendors fly,
Like living things with flaming wings,
Wide o'er the wondrous sky.
I long to see those icebergs vast,
With heads all crowned with snow,
Whose green roots sleep in the awful deep,
Two hundred fathoms low.
I long to hear the thundering crash
Of their terrific fall;
And the echoes from a thousand cliffs,
Like lonely voices call.
There shall we see the fierce white bear,
The sleepy seals aground,
And the spouting whales that to and fro
Sail with a dreary sound.
There we may tread on depths of ice,
That the hairy mammoth hide,—
Perfect, as when in times of old,
The mighty creature died.
And while the unsetting sun shines on
Through the still heaven's deep blue,
We'll traverse the azure waves, the herds
Of the dread seahorse to view.
We'll pass the shores of solemn pine,
Where wolves and black bears prowl,
And away to the rocky isles of mist,
To rouse the Northern fowl.
Up there shall start ten thousand wings
With a rushing, wrestling din;
Up shall the auk and falmar start,—
All but the fat penguin.
And there in the wastes of the silent sky,
With the silent earth below,
We shall see, far off to his lonely rock,
The lonely eagle go.
Then softly, softly will we tread
By inland streams to see,
Where the pelican of the silent North,
Sits there all silently.
But if thou love the Southern seas,
And pleasant summer weather,
Come, let us mount this gallant ship,
And sail away together.
Mrs. Howitt.