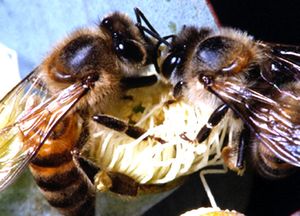 THE SONG OF THE BEES.
FLYING out, flying in,
Circling the hive with ceaseless din,
Now abroad, now at home,
Busy through wood and field we roam.
Here in the lily-cup, there in the clover,
Gather we sweets the meadow over.
Food to our young we carefully take;
Pollen we bring, and wax we make;
A band of us shapes each tiny cell,
Another follows, completing it well.
Working all, working ever,
Suffering idlers among us never;
Never pausing to take our ease:
Oh, busy are we, the honeybees!