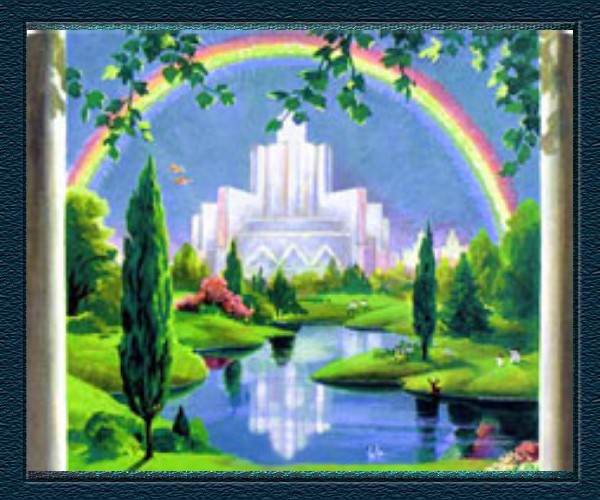 KATIE'S TREASURES.
IN the soft October sunshine,
'Neath the forest's golden eaves,
Roamed a merry band of maidens,
In a crimson rain of leaves,
And 'mid ringing bursts of laughter,
Fluttering through the misty air;
All their young heart's cherished treasures
Each with other did compare.
"I dwell in a lordly mansion,"
Cried a pair of scarlet lips,
"In the carpet's tufted roses,
Deep my lightest footfall dips.
Oh! The curtains and the pictures!
But more beautiful than all,
You should see the western sunlight
Creep along the painted wall."
"Listen," quickly cried another,
"Listen now, I pray, to me,
Years ago there was a necklace,
Borne across the deep, blue sea;
In its velvet-cushioned casket,
Stars could not so brightly shine,
But this chain of prisoned rainbows,
By and by will all be mine."
"I have not such wondrous jewels,"
Proudly spoke another voice,
"But I'd rather have my father,
If I had to take my choice.
He has grown so very famous,
People almost kiss his hand,
And in time, I'm very certain,
He'll be ruler of the land."
Thus ran on the eager voices,
As they gayly had begun,
Till some tale of wondrous treasure,
Every child had told, save one.
"She will not have much to tell us,"
Whisper they, "poor little thing!"
But with smiles, said blue-eyed Katie,
"I'm the daughter of a king!"
Then they laughed, "O princess, tell us
Where the king, your father, dwells;
Do your mighty palace portals
Swing at touch of golden bells?"
Meekly answered gentle Katie,
Brushing back a floating curl,
"All the shining wall is golden,
Every gate, a single pearl.
"And more glorious than the sunrise
Through the purple morning mist,
Brightly glow the brave foundations,
Jasper, sapphire, amethyst.
And within such wondrous treasures!
Oh, what happiness to see!
But when home my Father calls me,
He will give them all to me."
Then the little maids grew thoughtful,
And they looked with tender eyes,
On the sweet-faced little Katie,
Gazing upward to the skies,