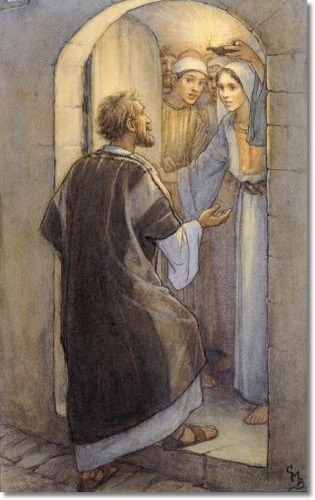 Little Rhoda.
OH, how little Rhoda ran,
When she heard that midnight knock:
Was it angel, was it man
As the portal gave the shock?
Little Rhoda listens now,
And she hears a voice she knows.
Oh, what pleasure on her brow
Childhood's eager spirit shows.
"It is Peter at the gate,
Dear, good Peter whom we mourned:
Do not let him longer wait,
Since he has at last returned."
"Rhoda, Rhoda, foolish child,
Surely Peter is not there."
But she persevered though mild,
"Cannot Jesus answer prayer?"
"Sure this blessed night we knelt,
Asking Christ our friend to shield,
And my simple spirit felt
God's right hand would be revealed."
"Rhoda, Rhoda, let him in:
Child thou art, but Oh how strong.
Oh that me such faith might win!
Higher then would rise our song."
YI