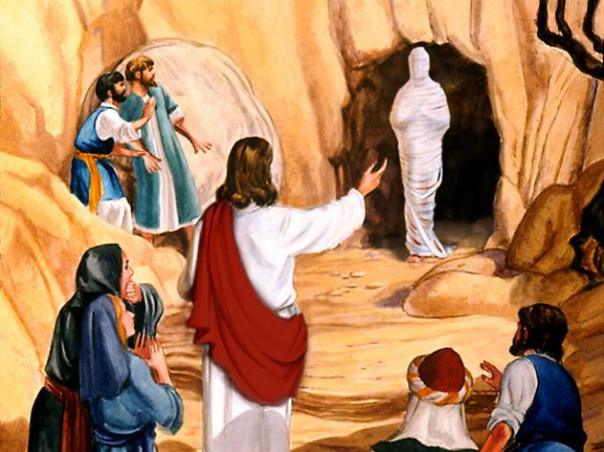 The Story Of Lazarus
THERE stood upon a mountain slope,
A cottage, years ago;
Half hid in olive trees above,
And fragrant vines below;
Within whose neat, ungarnished walls
A little household dwelt,
In loving peace, remote from strife
The noisy city felt.
Two sisters and a brother dear
Made up the household band,
Whose Christian and domestic love
Went sweetly hand in hand.
And oft a way-worn traveler
Passed through their open door,
To drop a word of holy cheer,
Or share their simple store.
At length, upon their pleasant home,
A heavy shadow fell.
The brother sickened; then he died
The brother, loved so well.
They laid him in a rustic grave;
The summer winds breathed low;
And all around, the mountain flowers
Were bright with bud and blow.
Four suns their shining path had run,
When down the shady street
There came the lightly-echoed tread
Of Jesus' sandaled feet.
To meet the blessed traveler
The stricken sisters cried,
And murmured, "Lord, hadst thou been here,
Our brother had not died."
With troubled air, he straightway asked,
"Where have ye laid the dead?"
And while the Jews stood wondering,
"Lord, come and see," they said.
The sorrow of the tearful group
Beholding, "Jesus wept;"
Then, following on, with slower pace,
Drew near where Lazarus slept;
And bending tenderly above
The quiet, new-made grave,
He bade them take away the stone
That lay upon the cave.
They gainsayed gently, but obeyed,
When, to their glad surprise,
The Saviour moved his lips in prayer.
And lifted up his eyes;
And crying. "Lazarus, come forth,"
In accents clear and loud,
He that was dead, alive appeared,
Wrapped in his burial shroud.
And many Jews believed on Christ;
And Lazarus went his way;
And sunshine filled that happy home,
Where late the shadow lay.
-Select.