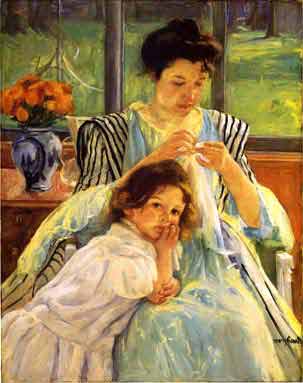 SOME OTHER DAY.
OF all the words that grown folks say,
The saddest are these, "Some other day."
So easily, carelessly, often said,
But to childish ears they are words of dread,
To hope a knell, and to wish a doom,
A frost on expectancy's tender bloom;
For even a baby who scarce can crawl,
Knows a promise like that is no promise at all,
And that out of sight and of mind alway
Is that mocking mirage, "Some other day."
The years flit by, and wishes fade,
And youth in the grave of age is laid,
And the child who bent his youthful will
Is a child no more, but is waiting still.
For the pleasure deferred, the left-out game,
Though it come at last, is never the same;
The bubble has died on the mantling cup,
The draught is dull as we drink it up;
And old hopes laugh at us as we say,
"At last it has come, that 'other day.' "
Ah! Little hearts which beat and fret
Against the bounds by patience set,
Yours is but universal fate,
And the old as the young all have to wait.
You will learn like us to be stout in pain,
And not to cry when your wishes prove vain,
And the strength that grows from a thwarted will,
And that service is done by standing still,
And to bravely look up into heaven, and say,
"I shall find it all there, 'some other day.'"
Susan Coolidge