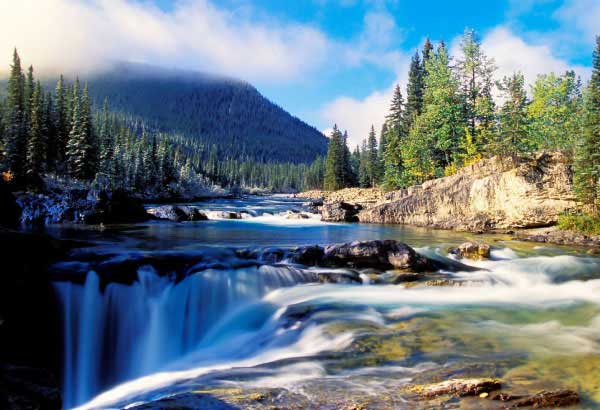 A Child's Questions.
CHILD.
WHO heaped the mountain up so high?
Who made the rivers flow?
Who put the water in the sea?
Dear mother, do you know?
MOTHER.
It was the Lord, my little one,
Who made the earth so wide;
He filled the rivers and the seas,
And shaped the mountain side.
CHILD.
Who sent my baby brother here?
Who gave him hands and feet?
Who put that dimple in his cheek?
And made his lips so sweet?
MOTHER.
God gave our little baby life,
And formed its body too;
He is the Maker of us all,
And, darling, He made you.
CHILD.
How came the trees to be so tall,
And bear such pleasant fruit?
How can the pretty flowers grow
From such an ugly root?
MOTHER.
We cannot tell how trees can rise,
And flowers bloom so fair;
'Tis God who makes them live and grow,
And plants them everywhere.
CHILD.
Who taught the bird to build his nest,
And line it soft with hair?
Who taught the bee to make his cell,
And store the honey there?
MOTHER
God made the little bee, so wise
In all his busy ways;
He taught the bird to build his nest,
And sing his song of praise.
CHILD.
Who put the sky so far away,
And painted it so blue?
Who makes the sun to shine on us,
And sends the evening dew?
MOTHER.
God makes the sun to shine on us,
He formed the sky above;
He sends the dew upon the flowers,
For, dearest, God is love.
CHILD.
Who drops the snowflakes gently down,
And spreads them over all?
Who rolls the thunder through the clouds,
And lets the lightning fall?
MOTHER.
God has a treasure-house of snow,
The winds are in his care;
He kindly sends the thundershowers
To purify the air.
CHILD.
Dear mother, very strong and great
This mighty God must be!
He seems too wise to give a thought
To little ones like me.
MOTHER
Ah no, my child. Though God on high
Is wonderful in might,
The humblest child who kneels to him
Is precious in his sight.
So dearly did He love man-kind,
He sent his Son from heaven,
To die upon the cross for us,
That we might be forgiven.
Since He has done so much for us,
How grateful we should be:
We should obey his Ten Commands,
And love him heartily.
You think this world so very fair,
And very fair it is;
But God has made a brighter world,
More beautiful than this.
There sin and sorrow, death and care,
Can never come, my boy;
There those who love the Lord shall dwell
In EVERLASTING JOY.
YI