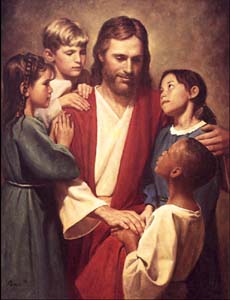 Little Children.
"Suffer the little children to come unto me,
and forbid them not:
for of such is the kingdom of God."
Mark 10:14.
I DEARLY love a little child,
And Jesus loved young children too;
He ever sweetly on them smiled,
And placed them with His favored few.
When cradled on his mother's breast,
A babe was brought to Jesus' feet,
He laid His hand upon its head,
And blessed it with a promise sweet.
"Forbid them not," the Saviour said,
"Oh, suffer them to come to me!
Of such my Heavenly Kingdom is,
Like them may all my followers be."
YI