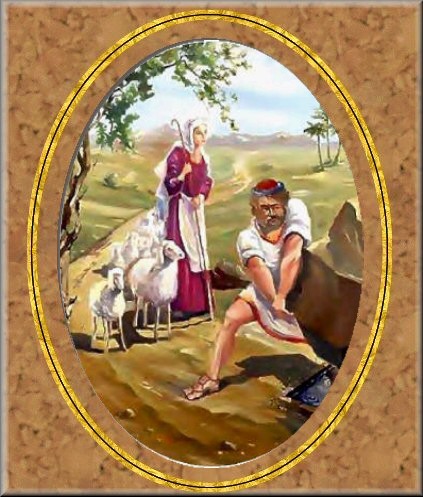 AT THE WELL.
THE morning in its glory breaks
O'er Chaldean hill and plain,
And the traveler springs from his grassy bed
To haste on his way again.
But his heart is sad, and his eye is dim;
For his thoughts are far away,
Where, fair and bright in the morning light,
The home of his childhood lay.
He looks on the picture painted there,
Till his heart seems rent in its wild despair,
The mother bowed with her secret grief,
The trembling, white-haired sire,
The brother cruelly betrayed,
Veiling a murderer's ire
He sees his flocks in another's care,
Henceforth he is counted a stranger there.
Now the angel vision memory brings,
And he lists to the words of peace,
Till the shadows flee, and his troubled soul
Exults in a glad release.
God hath closed the past like a sealed book;
Let the exile now to the future look.
But how will they greet him, - the stranger kin?
He comes with no menial band;
No laden camels his earthly store
Only a staff in hand.
"I will be with thee" the promise given;
He calmly trusts to the pledge of Heaven.
Lo, shepherds grouped 'neath yon palm-tree's shade,
With their flocks by a cooling well;
To his earnest queries the quick reply,
"Thy kinsmen among us dwell;
Yonder their flocks." Why, with eager feet,
Springs he now that girlish form to meet?
'Tis the same glad step, the speaking eye,
Of her who hath loved him from infancy.
With tears and smiles is the greeting said,
But the stranger's heart is comforted.
Henceforth, through the weary years of toil,
That face his light shall be,
That gentle voice fall on his ear
Like sweetest minstrelsy.
Ah, despite his mercies requited ill,
Our Father loveth his children still!
And the maiden in duty's daily path
Hath found life's sweetest bliss,
God's love and the love of a human heart,
Fountains of happiness,
For the richest blessings of life befell
As she led the sheep to her father's well.
M. A