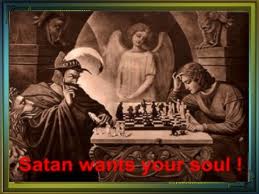 THE CONFLICT OF LIFE.
A CONFLICT strange is being fought,
A wondrous thing is being wrought;
The human soul's the battleground,
The marks of sin the fatal wound.
Lo! Right and wrong in bright array,
Each seek to win the dread affray;
Vile spirits whisper in the ear,
And bid the sinner not to fear.
While Satan works with wily art,
Upon the tender, youthful heart,
Bright angels stand with wings of white,
Blest messengers of heavenly light,
And point to glories yet to come,
And whisper, "Rest, and joy, and home."
If evil gains the ground at last,
Then life is wasted, "harvest past."
The battle may be fierce and long,
Yet if the good o'ercome the wrong,
Their feet will tread the golden floor
Of King's high palace evermore.
O children, play the "game of life "
With art and skill, and win the strife;
It is no game of simple chance,
No battle fought with spear and lance.
But 'tis for you to simply say,
With help of God, I'll gain the day;
And then to fight with foes within,
Until you conquer every sin.
ELIZA H. MORTON.