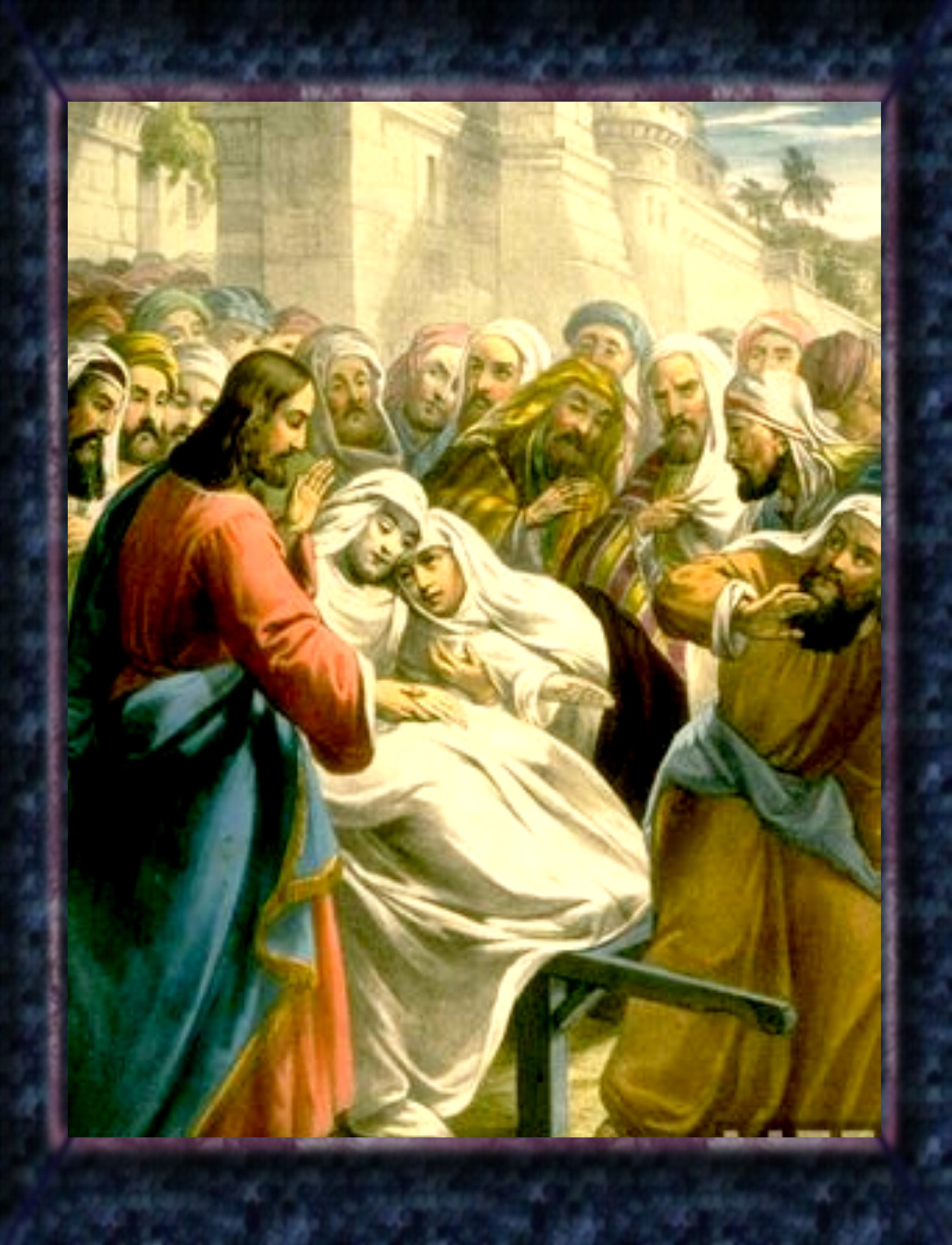 THE WIDOW OF NAIN.
THE dust on their sandals lay heavy and white,
Their garments were damp with the tears of the night,
Their hot feet a weary, and throbbing with pain,
As they entered the gates of the city of Nain.
But lo! On the pathway a sorrowing throng
Pressed, mournfully chanting the funeral song,
And like a sad monotone, ceaseless and slow,
The voice of a woman came laden with woe.
What need, stricken mothers, to tell how she wept?
Ye read by the vigils that sorrow hath kept,
Ye know by the travail of anguish and pain,
The desolate grief of the widow of Nain.
As He who was first of the wayfaring men
Advanced, the mute burden was lowered, and then
As he touched the white grave-clothes that covered the bier,
The bearers shrank back, but the mother drew near.
Her snow-sprinkled tresses had loosened their strands,
Great tears fell unchecked on the tightly clasped hands;
But hushed the wild sobbing, and stifled her cries,
As Jesus of Nazareth lifted his eyes.
Eyes wet with compassion, as slowly they fell,
Eyes potent to soften grief's tremulous swell,
As sweetly and tenderly, "Weep not," he said
And turned to the passionless face of the dead.
White, white gleamed his fore head, loose rippled the hair,
Bronze-tinted, o'er temples transparently fair;
And a glory stole up from the earth to the skies,
As he called to the voiceless one, "Young man, arise!"
The hard, rigid outlines grew fervid with breath,
The dull eyes unclosed from the midnight of death;
Weep, weep, happy mother, and fall at his feet:
Life's dull, blighted promise grown hopeful and sweet.
The morning had passed, and the midday heats burned:
Once more to the pathway the wayfarers turned.
The conqueror of kings had been conquered again:
There was joy in the house of the widow of Nain.
Mary E. Mannix.