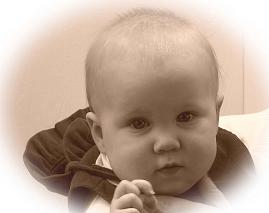 LITTLE CHILDREN.
'Except ye become as little children."
Except your Father lead you,
You cannot find the way
Among the snares and pitfalls,
The lures that lead astray;
Except you be like children
And hold the skirts of love,
You'll miss the narrow pathway
That leads from earth above.
No other gift of Heaven
So much as this I crave;
No other gift so potent
To surely guide and save.
Oh! In this world of dangers,
Of passions fierce and wild,
Give me the perfect wisdom
Of a confiding child.
Advocate and Guardian