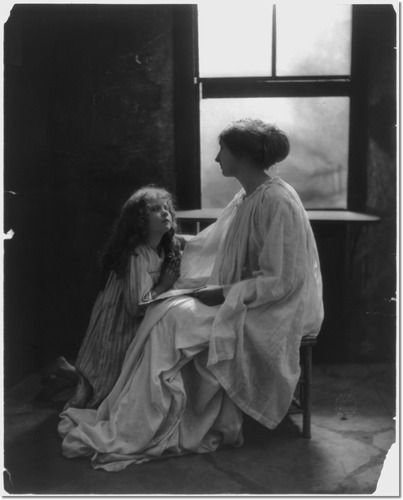 GOOD MORNING.
"He wakeneth morning by morning."
Isaiah 1:4.
"Oh, I am so happy," a little girl said,
And sprang like a lark from her snug little bed;
"It's morning, bright morning! Good morning, papa!
O, give me a kiss for good morning, mamma!
And only just look at my pretty canary,
And hear how he's singing good morning to Mary;
The sun, too, is shining right into my eyes,
Good morning to you Mr. Sun, as you rise
So early to waken my birdie and me,
And make us as happy as happy can be."
"And happy you may be, my dear little girl,"
Said mother, as gently she smoothen'd a curl;
"As happy can be; but think of that One
Who waken'd, this morning, both you and the sun."
The little one turned her bright eyes with a nod,
"Mamma, may I say too, good morning to God?"
"Yes, dear little darling, most surely you may;
So kneel, as you do in the morning to pray."
Then solemnly kneeling and lifting her eyes,
She gazed up earnestly into the skies;
And with her two hands nicely folded together,
As gently she leaned on the lap of her mother,
"Good morning, dear Father in heaven," she said,
"I thank thee for watching around me in bed,
For taking good care of me all the dark night,
And waking me up with this beautiful light!"
An angel looked down in the sunshine and smiled,
Beholding and hearing that beautiful child,
While father and mother adored the grace
By which, in dear Mary, God perfected praise,
And thought on the words of the Son of his love,
"Of such is the kingdom of heaven above."
—Fraternal Messenger.