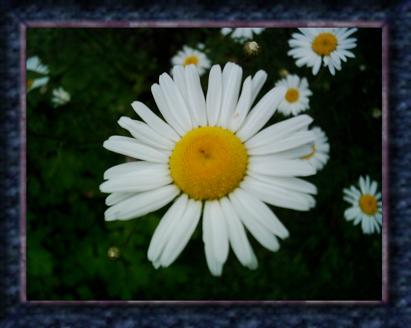 TIM'S DAISIES.
HE was only a little "street Arab"!
Ragged and friendless? Ah, yes!
Unused to life's sunniest pathway,
Unused to its love and caress;
For she who had loved him, the mother
Whose arms round him once, long ago,
Had clasped themselves closely, all winter
Had lain 'neath the beautiful snow.
But the months passed away, and the spring-time
Came on with its bud and its bloom,
And the zephyrs of May, softly blowing,
Scattered far o'er the earth their perfume.
And then came a day dawning brightly,
When soldiers brought flowers to spread,
With love and with honor so loyal,
O'er the graves of the hero-dead.
And poor little Tim, sadly thinking
Of his loved one, whose grave was unknown,
Wandered there 'neath the pleasant spring sunshine,
With tears in his eyes, all alone;
And he gathered the pretty white daisies,
For no other flower had he,
And on the dear grave of his mother
He scattered them tenderly.
Only the simple white daisies!
Only the tears falling fast!
Only a boy's sad heart yearning
For mother-caresses long past!
Oh, fair were the buds and the blossoms
Laid over the soldier-dead!
But as loyal and sweet were Tim's daisies
Over his mother's low bed.
Youth's Companion.