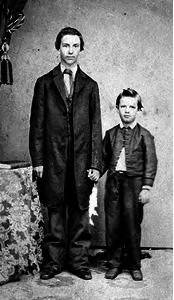 THE LITTLE WATCHMAN.
WATCHING for a golden chance
To do a kindly deed;
Watching, with a loving glance,
To help a brother's need.
Watching for the paths of right,
That we may walk therein;
Watching still, with all our might,
That we may conquer sin.
ON, FARTHER ON!
EACH night is a prison-bar
Broken and gone;
Each morning a golden gate,
On, farther on!
On, on toward the city
So shining and fair;
And He who hath loved me,
Died for me, is there!
Alice Gary
LOVE ONE ANOTHER.
"LITTLE children, love each other;"
'Tis the blessed Saviour's rule;
Every little one is brother
To his playfellows at school.
We' re all children of one Father,
That great God who reigns above;
Shall we quarrel? No; but rather
Would we dwell like him in love.
A LITTLE RULE.
GOOD and true and happy,
I may be,
Walking in the sunshine,
Glad and free,
If I but remember
Every day
What the Bible tells me,
"Watch and pray."