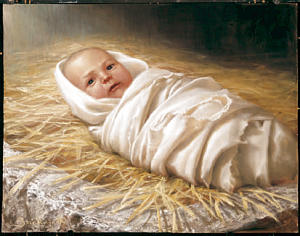 CHRISTMAS.
CHRISTMAS, merry Christmas, so happy, glad, and free,
Has come again to greet us, with gifts and pleasantry,
Although its age is told by eighteen eighty-two,
It comes to us as young, and fresh, as festive and as true,
As when announced on Judah's plain,
Amid the holy, shining train.
Glory to God on high, and peace on earth to man!
Was sweetly sung by the heavenly choir, when Christmas first began;
And as the gentle accents rolled, along the vaults of Heaven;
The choicest gift man ever knew, was unto him then given.
"For unto you a Christ is born,"
The angels said that Christmas morn.
"His name is called the Wonderful, the mighty Prince of peace,
The everlasting Father—to all he brings release:
Of the increase of his government, and peace there is no end,
He'll surely sit on David's throne, and justice will extend
To all the nations far and near,
Who bow to him, his name revere."
The wise men, guided by the star, the promised child soon found,
His form was wrapped in swaddling clothes, his bed was
near the ground,
A manger was the only place the people then would give
To the Saviour of mankind, when first on earth he lived,—
He who had left his home on high,
For sinful man to bleed and die.
Now who will bring a Christmas gift this bright and happy morn,
Of a broken, contrite heart to the Saviour of mankind?
Are there any of the youthful band who read these pages o'er,
Who will begin to serve him now, and love him evermore?
Will yield their all into his care,
And for a home in heaven prepare?
C. S. BERRY.