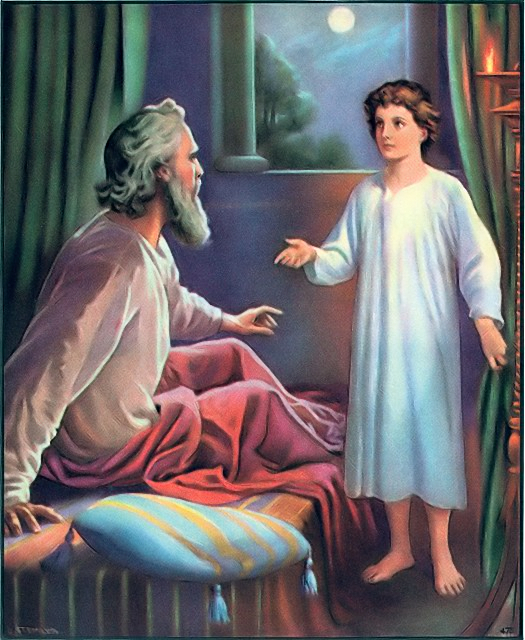 CHILDREN'S SERMON.
[1 Sam. 3:10. And the Lord came and stood, and
called as at other times, Samuel, Samuel. Then
Samuel answered, Speak, for thy servant heareth.]
ROUND the ancient town of Shiloh
Night has come, so still and dark;
Round the sacred tabernacle
And the golden-covered ark.
Now the fathers, worn with labor,
And the mothers, tired with cares,
Find the rest, serene, refreshing,
Which the blessed night prepares.
Now the bright-eyed Hebrew children,
After active, noisy games,
Hide-and-seek, or ball, or marbles,
Rest their hardy, sun-browned frames.
Eli sleeps, the priest, gray-headed,
With his beard along his breast,
Like a pictured saint so peaceful,
And his dreams are with the blest.
Deeper in the solemn shadow,
Low upon his little bed,
In the bloom of childish beauty,
Samuel rests his curly head.
So they sleep and wait the morrow,
When new day to life shall call,
And the sleepless God of Israel
Watches, faithful, over all.
But the child starts in his slumber
Does he dream, or does he hear
Voice that calls him in the darkness?
Now again it fills his ear;
Voice like that of ancient Eli,
Tender, fatherly in tone,
Thrice to Samuel clearly calling,
As a father calls his own.
Through the silent tabernacle
Cautious trip the little feet;
Hand and spirit both are ready
For obedience complete.
Never stops the child to question
Lingers not to frame reply
Straight he seeks his aged master,
Softly saying, "Here am I."
Yet his heart is full of wonder,
And the question of surprise,
Eager, earnestly appealing,
Looks from his wide-opened eyes.
But 'tis not the voice of Eli;
See; he sleeps; but wakes to say,
"I called not, my son; thou dreamest;
Lay thee down till coming day."
Now again resounds the summons
Through the tabernacle still,
And the wondering childish sleeper
Quick to wait on Eli's will,
Stands and waits to know his bidding;
Till the priest, so simple, mild,
Learns at length the truth momentous,
That the Lord had called the child.
"Seek once more, my son, thy pillow;
If the call shall come again,
'Speak thou, Lord, thy servant heareth';
This shall be thy answer then."
Calls again the voice majestic;
And the child, with accents clear
Answers bravely, "Speak, Jehovah!
I, thy servant, now will hear."
Do you think, my precious children,
That the Lord called him alone?
Are there, think you, no more Samuels
Whom he loves his very own?
Did he only call the Hebrew
In the midnight, long ago?
Was that willing boy in Shiloh
All the child that God can know?
Has the Lord one message only?
Only work for one to do?
In the service of his altar
Is there left no place for you,
Where quick hands may do his bidding,
Where light feet may walk his ways,
By whose lips be nobly spoken
Pure, brave words of truth and grace?
O my children, let the story
Teach you of your life today;
Now to you Jehovah calleth:
"Will ye love me and obey?
Still my service, glad and holy,
Makes the soul of childhood Sweet;
Still I ask the trust of children,
And obedience complete.
"Will ye walk with me, your Father,
Giving heart and life to me?
Will ye follow and believe me
Till my face and home ye see?"
In the light and in the darkness
Searching ever, voices call:
"Will ye take Him now, ye children,
Yours forever and for all?"
So within the tabernacle
Of your Father you may bide;
Safe in love, unfailing, tender,
You may dwell unterrifled.
As he calls you, blooming children,
Give him hands and hearts and ears,
Spirits bowing low to answer,
"Speak, O Lord, thy servant hears."