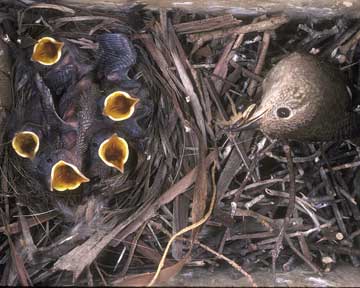 THE WREN'S NEST.
IT was a wee bit housie,
But shaped with deftest care,
Of twisted twigs, a feather or two,
A scrap of cloth of doubtful hue,
And a bit of tangled hair.
And the merry little artist,
Who twittered overhead,
Viewed her work with happy pride,
Fluttering about from side to side
Around the pretty bed,
Which held a tender promise
Of something fair to be;
And she poured a song,
The whole day long,
Over the pale eggs three.
Never a fear of the morrow
Clouded her hope so glad;
Never a doubt in the little brown breast,
As she gaily trimmed the dainty nest
With such things as she had.
Oh! Happy little warbler,
In thy blithe note is blent.
A song of trust from day to day,
And I learn of thee, as I go my way,
A lesson of sweet content.
Lucy Randolph / leming.