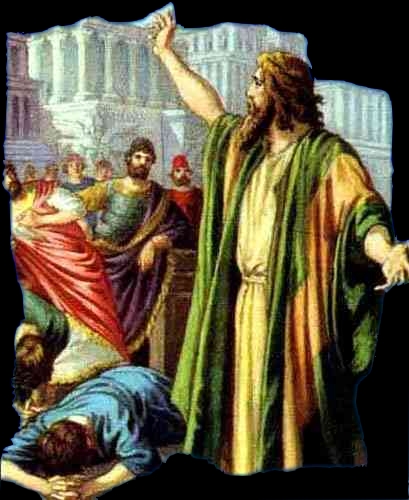 JONAH'S PREACHING.
WHERE the waters of the Tigris,
Through their sun-bright valleys flow,
Sat proud Nineveh in glory,
Near three thousand years ago.
Power and strength had made her haughty,
Wealth had filled her heart with pride;
And from king to lowest people
They had turned from truth aside.
Rough, grim warriors, clothed in armor,
Princes, people, old and young,
E'en the groups of little children,
Trooping forth with noisy tongue,
Gave their hearts to filth and folly,
Violence, and every wrong,
Till the Lord declared, in anger,
He their days would not prolong.
Suddenly within the city
A bold stranger form appeared,
With such words of woe and warning
That the stoutest quaked and feared.
On from street to street he hastened,
Uttering with undaunted tone,
Within forty days, O people,
Nineveh shall be o'erthrown.
Multitudes around him gathered,
"Who is this?" each whispered low.
But his words went ringing forward
God will Nineveh o'erthrow
Till they spread through all the city,
Reached the king upon his throne
Within forty days, O monarch,
Nineveh shall be o'erthrown.
All dismayed the people heard him;
And from off his throne of power
E'en the king arose with trembling
At the warning of that hour,
Changed his robes for mournful sackcloth,
And in haste sent forth command
That a fast, by least and greatest,
Should be kept through all the land;
That their cries should rise to Heaven;
From their evils each should turn;
If perchance the Lord's fierce anger
Might no longer 'gainst them burn.
Then their joy was turned to mourning,
Naught to man or beast was given,
And the city sat in sackcloth
While their prayers arose to Heaven.
God, well-pleased, beheld their fasting,
Their contrition deep and true,
And he turned him from the evil
He had purposed then to do;
Spared the city and the people,
Flocks and herds and children fair;
For he is a God of mercy,
And he hears and answers prayer.
Grand the lesson that is taught us
By the history of that hour
If we sin, the Lord condemns us
To the vengeance of his power;
But if we receive his warnings
Seeking to repent and live,
He will meet us with his mercy,
He will all our sins forgive.
u. s.