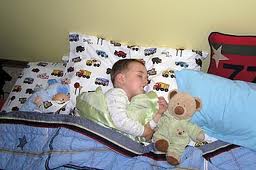 My Mother
OH! How gently o'er my pillow,
With a kind and loving grace,
In my chamber in the evening,
Bent my mother's loving face,
As she smoothed the tangled ringlets
From my boyish brow, and said:
"Learn of me this prayer, my darling;
Say it when you go to bed.
And I looked with holy reverence
On her face so much divine,
Bending o'er me in the twilight
Bending down so close to mine.
And her eyes oh! language fails me
For a truthful simile
Sad and tender, deep, expressive,
Bent so lovingly on me.
"Now I lay me" say it, darling
"Down to sleep," with ma repeat;
And with faltering voice I whispered,
"Now I lay me down to sleep."
And when all the prayer was finished,
And a word I did not miss,
Bending lower still, she whispered,
"Good night, darling;" then a kiss.
Years have passed, and I am older,
Still as fresh in memory
Are the prayer and sweet commandment
That my mother taught to me.
In the crown of her rejoicing,
I shall shine as one bright star,
Which, by earnest, tearful labor,
She has won, in Heaven to wear.
The Standard.