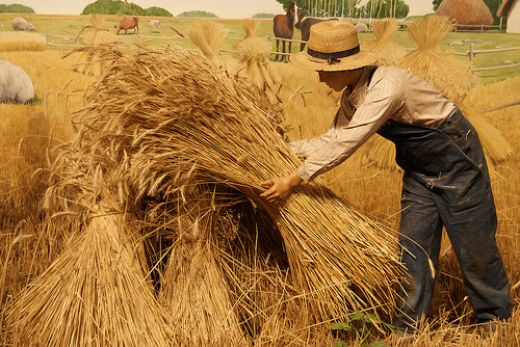 GOLDEN AUTUMN.
GOLDEN autumn comes again,
With its sunshine dashed with rain,
With its fields of yellow grain.
Trees bend down with plum and pear,
Rosy apples scent the air,
Nuts are ripening everywhere.
Through the lane where bindweed weaves
Graceful wreaths of clustering leaves,
Home the reapers bear the sheaves,
Singing loud their harvest song,
In their hearty rustic tongue,
Singing gaily, old and young.
Mice, and ants, and squirrels fill
Now their garners at their will;
Only drones need hunger still.
Purple sunsets, crimson leaves,
Fruit, and flowers, and golden sheaves
Autumn gives us ere she leaves.
Mrs. Hawley.