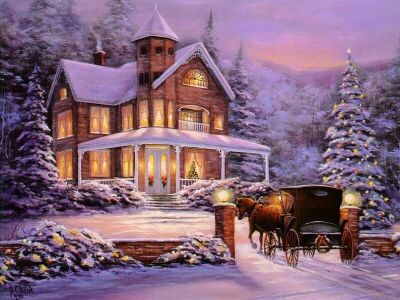 THE HAPPY VILLAGE.
AS often I pass the roadside,
When wearily falls the day,
I turn to look from the hill-top
At the mountains far away.
The red sun through the forests
Throws hither his parting beams,
And far in the quiet valley
The happy village gleams.
There the lamp is lit in the cottage
As the husbandman's labors cease,
And I think that all things are gathered
And folded in twilight peace.
But the sound of merry voices
Is heard in the village street,
While pleased the grandam watches
The play of the little feet.
And at night to many a fireside
The rosy children come;
To tales of the bright-eyed fairies
They listen, and are dumb.
Then seems It a joy forever
To labor and to learn,
For love with an eye of magic
Is patient to discern.
And the father blesses the mother,
And the children bless the sire,
And the cheer and joy of the hearthstone
Is as light from an altar fire.
Oh, flowers of rarest beauty
In that green valley grow;
And whether 'twere earth or Heaven
Why shouldest thou care to know?
Save that thy brow is troubled,
And dim is thy helpmate's eye;
And graves are green in the valley,
And stars are bright in the sky.
Scribner's Monthly.