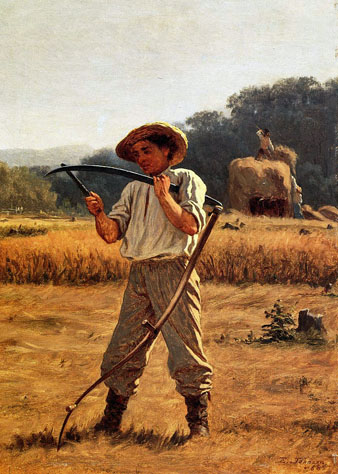 THE GOLDEN GRAIN.
THE grain! The grain! the beautiful grain!
How it laughs to the breeze with a glad refrain,
Blessing the famishing earth in her pain,
Making her smile with glee,
Lifting in praise each bright, golden crown,
As it drinks the dew the Father sends down,
Courting the sun's warm, lover-like frown,
Returning it smilingly.
The grain! The grain! The beautiful sheaves!
A song of joy their rustling weaves,
For the gracious gift that the earth receives,
Given most royally.
From every hill-side, every plain,
Comes the farmer's song as he reaps the grain;
And the gentle breeze wafts on the strain,
In wildest harmony.
He pours o'er the earth his brimming horn,
That the valleys may laugh and sing with corn,
While hope, from her death-trance rises new-born,
The brighter days to see.
Selected.