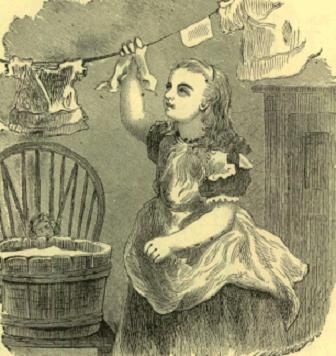 A VOICE FROM THE SUDS.
IN and out of the foaming suds,
Rubbing and scrubbing and wringing,
Forth from the chaos of steam and soap
Order and cleanliness bringing;
So may life's trial and discipline be
Pureness and cleansing to thee and to me.
Out on the line in the brisk, sweet air,
Flapping their fresh white pinions,
Dried by the breath of the whispering wind
As he roves through his vast dominions;
So may the damps of our fret and care
Be lost in the pure, soft wind of prayer.
Spread on the board, while the irons pass
Over each fold in their noiseless gliding,
Smoothed are the crumples with fervent heat,
Never a roughness in corner hiding;
So may the love of the Christian's heart
Bid every blemish and crease depart.
M. E. B.,
in Child's Companion.