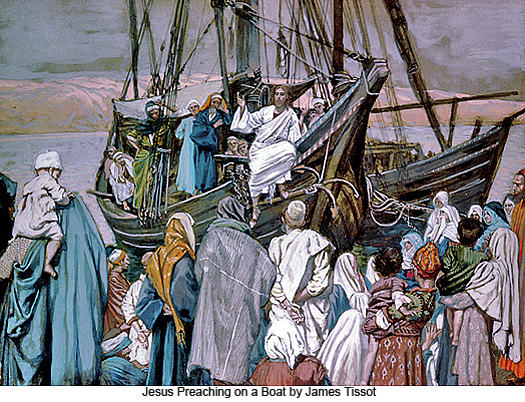 THE SEED OF THE WORD.
O, I think I see the Master, as he sat within the boat,
And taught the eager people who gathered by the sea;
And the words he said divinely, down the ages seem to float,
And again I hear them spoken like a message sent to me.
Yes, the Master 'tis who tells me that some seed 'mid thorns will fall,
Some will wither in the sunlight, some the birds will swift devour,
Some on stony ground will perish, never growing up at all,
Some-I thank him for the promise-will be saved for harvest's hour.
And I bless him for the largeness of the hope his toilers share,
Thirty, sixty, yea, a hundred, after that, a thousand fold,
Aye increasing, never ceasing, till the bending sheaves they bear,
'Mid the anthems of the ransomed, through the open gates of gold.
What though nights be wan with weeping? What though days be dark with loss?
If we sow the seed he gives us, waiting on the Lord in love,
We may leave it in his keeping, we may smile beneath the cross,
Looking ever on and upward, to the home that is above.
Teacher, pastor, faint disciple, weary though the work may be,
List the word of consolation, list the song that seems to float
Down the ages, silver sounding, coming with its thrill to thee
From the lips of Christ, the Master, sitting in the fisher's boat.
-Margaret E. Sangster