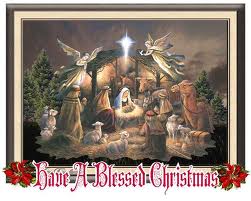 Christmas Rhymes
BREAKING on the twilight stillness,
Listen to the Christmas chimes;
They have brought the same glad tidings
More than eighteen hundred times—
Peace on earth!
Let the bells ring out the joy of the nations,
Jesus the babe of the manger is King;
He is the highest who once was the lowest,
Let all the children be joyful and sing,
"Peace and good will, strife shall be still,
The babe of the manger is King."
Ring, ye bells! 't is sweet to listen;
Sing, ye friends, outside the door,
Echoes of that wondrous music
That was heard in days of yore.
Dress the house with holly,
Let the bright red berries shine,
While we celebrate the birth-night
Of our gracious Lord divine.
There's a song in the air, there's a star in the sky,
There's a mother's deep prayer and a baby's low cry;
And the star rains its fire while the beautiful sing,
And the manger of Bethlehem cradles a King.
T. G. Holland.
Sound over all waters, reach out from all lands,
The chorus of voices, the clasping of hands;
Sing hymns that
were sung by the stars of the morn,
Sing songs of the angels when Jesus was born
—Whittier.
But the star that shone in Bethlehem
Shines still, and shall not cease;
And we listen still to the tidings
Of glory and of peace.
—Adelaide A. Proctor.
Then pealed the bells more loud and deep,
"God is not dead! Nor doth he sleep!
The Wrong shall fail, the Right prevail,
With peace on earth, good-will to men!"
—Longfellow.