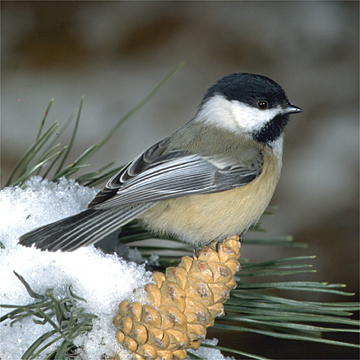 CHICKADEE.
High in the bare brown elm he swings,
And twitters low and sweet;
What cares he that the winter snow
Lies white beneath his feet?
December is better than Mays and Junes
For singing the sweetest of sweet tunes,
Chickadee dee dee dee.
Where are the wife and babies brown?
Where does the wee nest hide?
For trees are bare and leaves are down,
And all the countryside
Lies shrouded in the drifting snow;
But he sings though bitter north winds blow,
Chickadee dee dee dee.
The night shuts down with bitter cold;
Men shiver, hurrying by;
But when morning breaks in purple and gold,
Clear 'gainst the eastern sky,
We see the dainty figure swing,
And hear again the sweet notes sing,
Chickadee dee dee dee.
Annie M. Libby