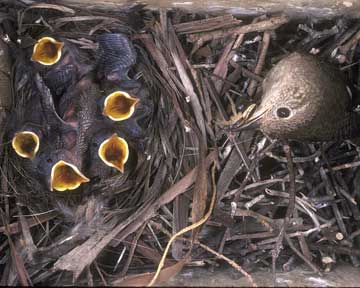 NIGHTFALL.
THE hush of twilight, far and wide,
Falls on the green and sloping meadows;
All tremulous the aspens stand,
By way-worn zephyrs lightly fanned,
Where the clear brooklet's mimic tide
Sweeps onward to the shadows.
All day its sun-flecked ripples flow
Through pastures strown with hay and clover;
Through lonely glens, where alders lean
To kiss the dimpled waves, unseen,
And sweet wild roses blush below
The brambles drooping over!
The stars peep forth, the afterglow
Fades slowly out behind the larches;
The birds are hushed—save one that seems
To chirp a little in his dreams—
When outcast breezes faintly blow
Adown the woodland arches.
The ripples vanish, seaward drawn;
The flowers in sleep their perfume render;
So nightly round each darkening slope,
The light is sown in patient hope,
That the rich harvest of the dawn
May rise in golden splendor.
Arthur's Home Magazine.