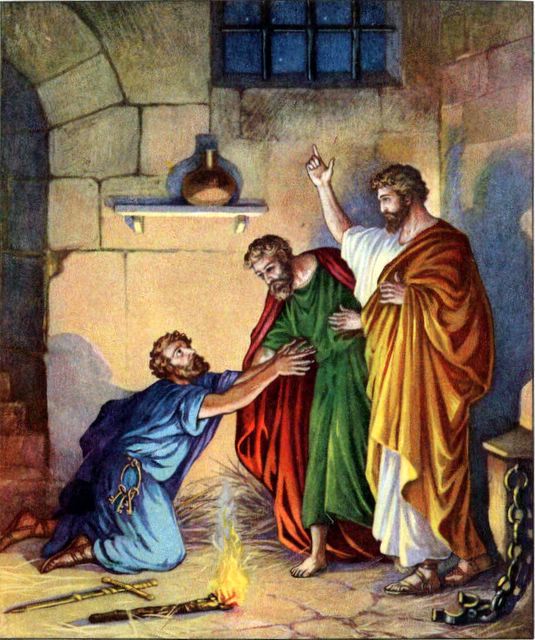 The Jewish Captives.
Is Thyatira's lonely cell,
Two Jewish captives lay;
Their feet made fast within the stocks,
And guarded night and day.
Not long before, the envious Jews
Had crucified their King;
And, hence, to preach a risen Lord
Was thought a dangerous thing.
Yet Paul and Silas fearlessly
The truth would still proclaim,
Though many stripes were laid on those
Who taught in Jesus' name.
And though with iron bands confined,
In God they trusted still;
Their chiefest aim to glorify
And do their Master's will.
And often from their dungeon rose
The fervent, humble prayer:
Those prayers were heard in heaven above,
And angels watched them there.
Not iron bands nor bolted doors
Could hold those captives long:
Although but weak and feeble men,
Their great Deliverer's strong.
'Twas in the silent hush of night,
The solemn midnight hour,
When God saw fit to lose their bands,
And manifest his power.
An earthquake shakes their prison walls;
Meanwhile an unseen hand
Unbolts the ponderous prison doors;
And loosens each one's bands.
And as the solemn voice of praise
The midnight silence broke,
Out of his sleep in sore amaze,
The affrighted jailer woke,
And would at once have killed himself,
Had not those words of care
Which fell from Paul restrained his fears,
And checked his wild despair.
"What must I do, sirs, to be saved?"
The jailer trembling cried:
"Repent, believe, and be baptized,"
The steadfast Paul replied."
The jailer brought his prisoners forth,
And though so late at night,
He and his house were then baptized,
Before the morning light.
Now when their enemies had heard
What wonders had been wrought,
They came themselves and from the jail
Both Paul and Silas brought,
Who on their holy mission went
To preach in every land,
Salvation through the Saviour's name
The kingdom is at hand.
SUSAN ELMER.