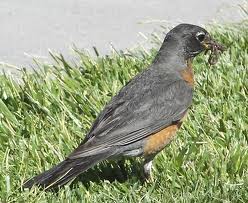 Robins Matinee
THERE come to my window sometimes to my door
Two dear robin red-breasts, each morning, at four;
They sit in the elm tree, with fluttering wing,
And, hid in the branches, they merrily sing.
They have black-banded surplice, with note-books
between,
Made of whispering leaves, and their covers so green;
They have galleries, too, and a high architrave,
A choir-loft, and aisles, with a pulpit and nave.
Their windows are Gothic, of sunniest hues,
Glazed, curtained, and washed with the purest of dews.
Perched close together, so lovingly there,
Responding in anthem, and chanting, and prayer,
I love every strain that our birdies prolong,
For God and his angels delight in their song.
One morning I woke with the light at my door;
My robins were there; it was just striking four!
How quickly they sang to me! Note after note
Poured silvery streams from the quick-throbbing throat
Now abrupt, then a chirp, now a pert, funny twirl,
Like the full, ringing laugh of a musical girl;
Now cadences deep, then a trill; and the strain
Repeats all in octaves, again and again,
Till nature, responsive, from hillside and lawn,
Awakes at the notes of the robins at morn.
The day-star hangs low on the brow of the hill,
Afar in the wood moans the sad whippoorwill,
The herds are home-coming, at ease, through the grass,
And cozily browsing the flowers as they pass,
The watch-dog is rousing the house with his bark,
The dairy-maid springs to her toil with the lark,
The crickets are chirping, close by on the bough,
There is croaking for rain, though it rained but just now;
The sweetest, and purest, most welcome of all,
My own matinee robins still warble their call.
They have opened a church in the old elm tree,
And are preaching true sermons of duty to me.
The dawn-light may greet me for many a day,
The dust-flake and heat-drop be thick in my way,
My heart may grow sad as I journey along,
My roof-tree be leafless, all silent its song,
But oft shall I think of the window and door
Where my pet robins caroled each morning at four.
Little Corporal.
Robins
YOUNG ROBINS
See, upon that apple tree,
Little robins two and three,
In the nest they lie.
Don't disturb them, children dear,
But in kindness leave them there
Till they learn to fly.
See! The mother-bird appear?,
Fluttering, chirping, for she fears
You will harm her brood.
How distressed she seems to be
When we go BY near the tree;
Let us not intrude;
God, who made the earth and sky,
Made the little birds that fly
In the open air,
And he hears them when they sing,
Whether still or on the wing,
And they have his care.
SAMUEL O. JAMES.