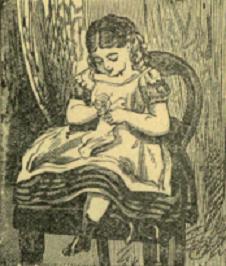 LITTLE HOME-BODY.
LITTLE Home-body is mother's wee pet,
Fairest and sweetest of house-keepers yet;
Up when the roses in golden light peep,
Helping her mother to sew and to sweep;
Tidy and prim in her apron and gown;
Brightest of eyes of the bonniest brown;
Tiniest fingers, and needle so fleet,
Pattern of womanhood, down at my feet.
Little Home-body is grave and demure,
Weeps when you speak of the wretched and poor,
Though she can laugh in the merriest way
While you are telling a tale that is gay.
Lily that blooms in some lone leafy nook,
Sly little hide-away, moss-sided brook,
Fairies are tine where the silver dews fall;
Home-fairies, these are the best of them all.
—Select