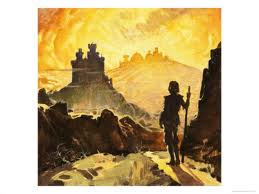 MEMORY.
OUR memory will recall the forms
Of those we loved, though passed away,
Free from the troubles and the storms,
That here beset the pilgrim way.
None tread a thornless path below,
Though roses greet us through the shower;
And in the genial, sunlight glow,
Oft sorrow lurks beneath the flower.
Though specious phases life may wear,
And many a pleasing mask put on;
How soon will fade the bright and fair,
How soon life's golden hour be gone.
The dear companions of our way,
Who fought the fight, whose race is run.
Have borne the burden of the day,
Now sweetly sleep in yonder tomb.
Those forms if found among the blest
Will soon again appear;
And we, if faithful, can unite
With those we hold so dear.
Battle Creek, Michigan
J. L. INGS.