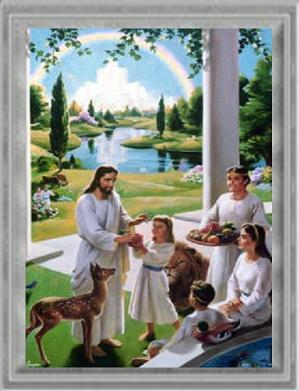 The Heavenly Land
Tune-- America.
BRIGHT Canaan, 'tis of thee,
Land of the pure and free,
Of thee we sing.
Land of the loved and blest,
Land where the weary rest,
Thy glories to express,
Our voices ring.
That land is lovelier far
Than Summer's beauties are,
Brighter than Spring.
There time shall ne'er destroy,
Nothing shall mar the joy,
Nor e'er their bliss alloy,
Who there shall reign.
There tears" ne'er dim the eye
Sorrows for ever fly,
That happy place.
Sin never enters there
To spoil those mansions fair,
None but the righteous there,
Who're saved by grace.
Eye ne'er such beauty traced,
Nor heart conceived the bliss
Of that fair land.
That happy land's my home
Around the radiant throne
I hope e'er long to join
That happy band.
Orwell, Ohio.
S. M. SWAN