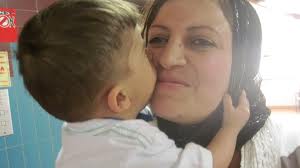 CHILDHOOD.
CHILDHOOD!
Happy childhood!
Once again I stand,
In my silent dreaming,
On thy sunny strand;
To mine eyes the laughter
Comes in place of tears,
To my lip the music
Learned in cloudless years.
Once again the morning
Rosy red is born,
And the yellow sunshine
Slants across the corn;
Clearly pipes the black bird,
In the orchard trees,
In the ruddy clover
Hum the drowsy bees.
On the sloping hillsides
Daisies whitely blow,
While above them softly
Shade and sunshine go.
Violets in the meadows
Blossom all untold,
And the cowslips cluster
With their cups of gold.
Through the tender grasses
Barefoot children run,
Funned by summer breezes,
Kissed by summer sun;
All their pulses throbbing
To one blissful tune;
All their days at dawning,
All their months are June!
—Myrtle.